Our goal is to reach every family in our area who has a child with Down syndrome and provide programs that are meaningful to all.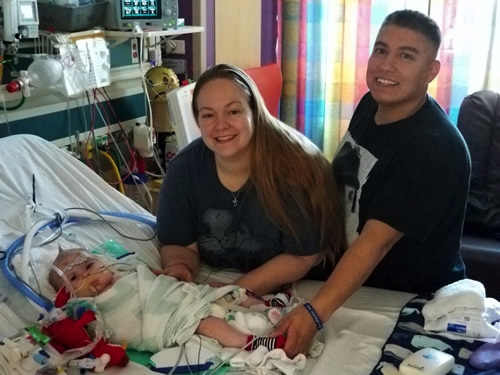 We visit families in the hospital and provide whatever support they need.
Angels Among Us – Family Visits
We provide new parent tote bags to children in AZ who are born with Down syndrome.
These bags include several books on raising a child with Down syndrome, a Baby Signing Times DVD, a onesie, a t-shirt, a journal and a handmade blanket.  Our new parent kits are valued around $100-125.
Babies with Down syndrome can have medical challenges, like heart defects, intestinal, respiratory problems, developmental delays, hearing/vision impairments. All of this is overwhelming to a new parent – and that is the time where we step in to help.
Our visits offer hope and empowerment and we let the family know we support them in the days and years ahead.
Educational Advocacy – Our goal is to give children with Down syndrome the most inclusive education possible so that they may grow up to fulfill their dreams and become self-advocates.
We provide educational advocacy for families through Susan Marks & Advocates.

Families come to us when they are no longer able to rectify a school situation in which their child is not being fully included in the Least Restrictive Environment (LRE).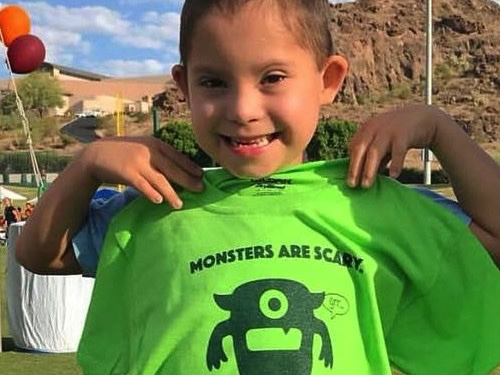 Social Outreach – Annual Events – Our goal is to provide support across the lifespan and have people view Down syndrome with a new, more forward thinking perspective without the old limitations and stigmas.
Sharing Walks have been happening for more than 20 years and each year, the celebration focuses on community members who are making a difference, families who love their journeys (even during some tough times) and organizations committed to helping people with Down syndrome through their activities, funding and sponsorship.

We also host Christmas parties, and other special programs.

We produce a monthly newsletter (in English and Spanish) with information and resources helpful to our families.

We also make regular visits to Arizona State University (ASU) and the Mayo Clinic to have our self advocates with Down syndrome speak about their lives with Down syndrome.  These discussions have been described as 'life changing'.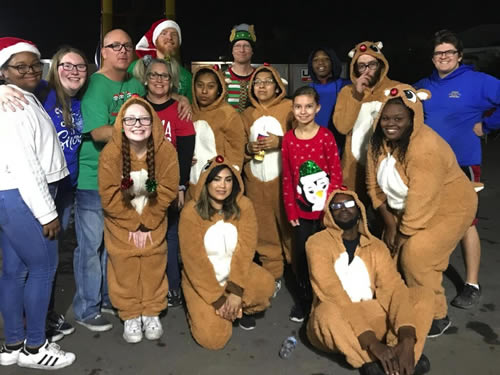 Our West Valley Holiday party in 2019
Therapeutic Recreation & The BrainPop App
Be sure to check out your local city's Parks and Recreation websites for Therapeutic Recreation.
Mesa Parks & Recreation has adaptive sports, recreation and social programs for youth and adults with intellectual disabilities. 
Be sure to check out the BrainPop app for interesting, entertaining and short online daily lessons on a wide variety of topics, from current events, to biographies, to historical events. There is also BrainPopJr for younger learners, as well as BrainPop Espanol, BrainPop Francais, and more!
Arizona Early Intervention Program
After you become the parent of a child with Down syndrome, you may wonder, 'What do I do first?'
A good place to start is with the
 

AzEIP. You can call them at 602-635-9799. Click on the box 'Refer a Child online' to begin the application process.
This program is under the Arizona Division of Developmental Disabilities Program. AzIEP covers all children who have disabilities from birth to 2 years and 10.5 months of age. By law, this program is here to help you obtain therapies for your child, including Speech, Occupational and Physical. These are home-based services.
Arizona Health Care Cost Containment System (AHCCCS)
Social Security Disability Information
Educational Advocates: Susan Marks & Advocates
Legal Advocates: Phelps LeClair Law
National Down Syndrome Congress
The Global Down Syndrome Foundation
TASH (The Association for the Severely Handicapped)
Reece's Rainbow - International Adoption for Down Syndrome
National Down Syndrome Adoption Network
We Need Your Support!
Sharing Down Syndrome Arizona is a 501(c)3 nonprofit organization and all contributions are tax-deductible to the full extent of the law. EIN: 86-0822557. Our Arizona State Tax Qualifying Charitable Organization (QCO) Code is: 20543